The X-Band Support
Moisture-Wicking Sleeve incorporated with Power X-Band.
Lower compression knit support attached high tension stretch band, so the support have different compression in certain area. The high stretch fabric(without X-Band) is easy to pull and wear when fitting, the lower stretch fabric is in high tension and stabilize the muscle, reduce vibration of muscle when doing sport. The tubular brace in one section both contain higher and lower stretch area.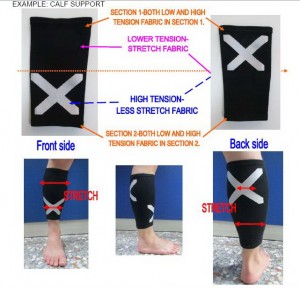 X-Band Feature:
*Moisture wicking fabric, soft and skin friendly knitted
*Latex-Free.
*High quality stretch film attached
*Flexible, the film can be redesign for function and pattern.
*Great Look.
*NEW -the first one to use this concept for sport med.